The Video Lab
Our self-service video lab is an innovative on campus recording studio. You can use it to create instructional videos, podcasts and other presentations, teach live via zoom, or for your thesis examinations
The video lab
Designed for both lecturer and student use, our recording and broadcasting technology is streamlined so you can focus on teaching and learning. The lab is self-service, with comprehensive instructions on how to use the technology. Reservations are essential and are managed on a first-come, first-served basis.
The lab is located on the 2nd floor of Ivey Hall in room L204. It is open to Lincoln University staff and students.
Designed with you in mind, the studio is equipped with:
Cameras to capture your video session

A computer to run presentations (or you can use your own laptop)

A document camera

A microphone

A large screen TV for playback

A choice of Lincoln University branded, plain backdrop, or greenscreen

Easy to use controls on the front of the desk to control the lights and TV input

A whiteboard that you can use just like the whiteboard in a classroom
Take a tour of the Lab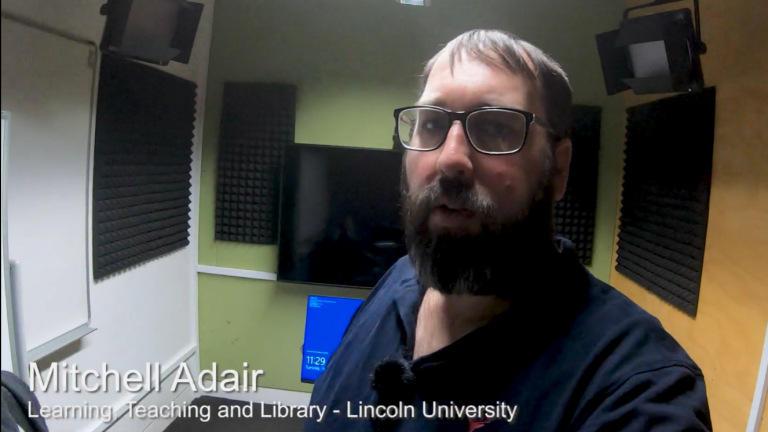 Make a reservation
The video lab must be reserved. Reservations are managed on a first-come, first-serve basis. Reservations can be made by logging in to the library room booking service.
Once you log in, most of the fields are prepopulated, however you will be asked to provide:
Your course code (mandatory)

The number of people attending the session (optional)

Start and end date of your booking (typically the same day)

Start and end time of your booking.
More information on using the Video Lab
These two handouts will assist you while using the video lab.
Prepare for your session
Learn how to prepare for your video lab session, including how to pick an outfit and practice your presentation.
Choose your outfit

Wear an outfit that will look great on camera:
For a better-quality image, wear solid colour clothing. Avoid wrinkled clothes, shiny fabric, busy patterns (like high-contrast stripes, plaids, or polka dots) and visible labels, logos, or text. (You may be able to wear a simple pattern if you're wearing a jacket over it.)

Don't wear all white, all black, all red, the same green as the green screen, or the same colour as your studio slides.

Smooth down wispy or flyaway hair.

Wear makeup if desired. Face powder can help prevent shine under the studio lights.

Avoid jewellery or other accessories that could make noise while you're recording.

Check your buttons are all done up.
Practice your presentation

It's a great idea to script and practice your presentation prior to your video lab booking. This way you can check the flow of your information and test how long it takes to get through. Keep these tips in mind:
Smile and be energetic.

Remember to enunciate.

Use your normal speaking voice and volume.

Feel free to use hand gestures if they feel natural.

Use good posture and open body language.

Look directly at the camera lens as often as possible.

Pretend you're talking to a friend who's behind the camera.
Record a video
In this guide you'll learn how to record a video in our video lab. Here are a few tips to get you started:
Plan your video – it should be no more than six minutes long.

If you are using slides, use a large font size (at least 18pt) and engaging visuals like simple graphics and charts.

Follow the tips under Choose Your Outfit to pick clothes that will look great on camera.

Make your video part of a balanced workload. Students are more likely to watch one video than five.

Unless you have the time and knowledge to edit your video, you will need to record at least one complete take—the entire video from start to finish—that you're prepared to share with your audience.
Design your video

Start planning your video by picking one key topic, learning outcome, or goal. Then identify the most essential content to include. You might want to prioritise:
algorithmic content like how to solve for an equation

clear visual aids like maps or diagrams

examples and anecdotes that illustrate ideas or emphasize important points

and complicated concepts that students might want to review multiple times.
Videos usually work best if they're less than six minutes long (Guo et al., 2014). You can think of a video as a highlight reel or a quick dive into an important topic. Consider starting with a "hook" (like an interesting real-world example), diving into engaging content, then wrapping up with a quick summary of what you've covered. Research also suggests that extra information, complicated slides and even music can distract from learning (Ibrahim 2012). Simplify your presentation so your audience can focus on what matters.
You can support students by providing tools to help them process the information in the video (Brames 2015). For example, you can invite them to think about specific guiding questions while they watch. You can ask them to submit a quiz or share a reaction on a discussion forum after they watch. You can even make the video part of a flipped classroom experience. In that case, you'll replace your usual in-class lecture with this new video and pre-class knowledge checks. Then you can use that freed up class time for active learning opportunities. Note that students are more likely to watch one video than five for a single class session.
Create your slides

Consider these tips for designing effective video slides:

1. Keep it simple - The best slides for video presentations are simple, focused, and contain very little text. Prioritise visual content like basic graphics and charts to make your slides effective at that scale.

2. Use a large font size - Use 18pt or larger fonts in your slides.

3. Plan ahead - Familiarise yourself with the video lab's capabilities by reviewing The Video Lab information. Here are a few important reminders:
In Full Screen and Screencast scenes, you will appear in front of your slides. Design those slides so you don't block important content.

You can think of Full Screen slides as an interactive backdrop: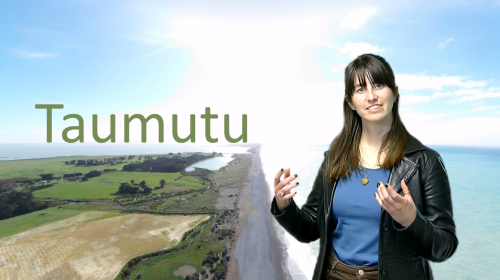 You can feature an image that covers your entire slide and move around to gesture towards different parts of it

, or you can limit content to one side of the

slide

so it looks like images or text are appearing next to you.
Your Video Lab session 

Consider these tips for your video lab recording session:
Pace yourself. Keep your energy up by drinking water, eating a snack, or going for a quick walk outside.

The lab is designed to empower you to create high-quality videos quickly and efficiently. 

Unless you have the time and knowledge to edit your video, make sure to record at least one complete take — your entire presentation from start to finish — that you're prepared to share with your audience.
Edit your video

After your video lab session, you will use Panopto to edit your video. (If you're an experienced video editor, you might choose to use other editing software.) Panopto allows you to trim content and add automatic captions to your video.

It's important to add captions to your video. Captions are essential for viewers who are hard of hearing. They're also valuable for anyone who wants to watch the video somewhere quiet (for example, while the baby's sleeping) or somewhere noisy (for instance, during a bus commute to campus). Start by using Panopto to add automatic captions. Then, since Panopto's captions are only 70-80% accurate, make sure to review and revise the captions before publishing your video.
Share your video

When you're finished editing, you can share your video with students via your Akoraka | Learn course page using Panopto.