Teaching Tools
There are numerous tools available for you to utilise in your teaching to enhance the learning experience of your students. The aim of these tools is to bring greater variety and flexibility to your teaching style.
University classrooms today are not only incorporating hands on learning and collaboration, they are also bringing focus to the importance of student engagement. Technology is creating new opportunities to help teach our students in innovative ways. By offering interactive learning experiences that emphasise student voice and creative uses of technology, lectures have transformed to serve as models of innovative practice for higher education students.
There are many opportunities to use these tools, whether online or in the classroom. The University has reviewed and tested a range of technologies, to investigate their appropriateness in a teaching and learning environment, ensuring that each recommendation is based on sound pedagogy.
Reviewed and recommended tools are listed below. Some of these tools are supported directly by Lincoln University, others have third party support. Many other teaching tools are available on the Internet and teaching staff are encouraged to explore available tools. The following information provides guidance on how to use the tool in your teaching. Accessing them will enable you to see their key features, how they can change the learning experience, and what support is available for you to use and apply them.
If you still have questions or concerns regarding how to use these tools in your teaching, contact Teaching Quality. For help with installation of these tools, please see IT Help or contact them through the IT Service Portal.
Panopto

Panopto is a cloud-based video recording software application and storage platform that represents an easy way to record, live-stream, manage and share educational videos with your students as it is easily integrated with Akoraka | Learn (Moodle).

Staff can use Panopto to record their class sessions as well as to make other recordings. Students can use Panopto to record course-related videos, including those for assignments.
Panopto content and retention protocols
The length of time a video is stored on the platform before deletion varies with the storage location. The Panopto Content Retention Protocol document helps you decide the correct place for storing videos.
Advice on using Panopto can be found in Ākona te Akoraka | Learn about Learn and in Panopto Support.
Leganto

Leganto is a user-friendly one-stop reading list shop for journal articles, books and web resources that:
Auto-populates citation details, managing your copyright behind the scenes
Links to an article/eBook the library subscribes to in a way that provides student access both on and off campus
Links to web resources using a browser bookmarklet
Enables short loan requests to be actioned without the need to fill in a separate form.
If you would like to explore how Leganto can achieve similar student interaction as Panopto contact Deborah Fitchett.
Perusall

Perusall is a free, social annotation web tool that allows students and their instructors to collaboratively mark-up pdf documents. Additionally, it can automatically grade the quality of student engagement. Perusall is a third-party software that Lincoln University does not control.

Note that any material you upload to Perusall must be uploaded within the copyright requirements of the University. This means everything uploaded into Perusall needs to also be uploaded to Leganto for copyright reporting. New Zealand copyright requirements differ from the US where Perusall is located. Please be aware that copyright information on the Perusall website may not be accurate for New Zealand requirements.

If you would like to know more about how to add Perusall to your Akoraka | Learn course page please watch this video, Adding Perusall to your Learn page (10min:11s).
Perusall and gradebook
If you want Perusall grades returned to Akoraka | Learn make sure you check the setting "Require student ID" in the Perusall course settings.
Turnitin

Turnitin identifies in a student's written work the material that has been copied from other sources. Turnitin does not tell you anything about the quality of the work or if a referencing style has been used correctly, it only identifies the extent to which information has been copied from other sources.

Advice on using Turnitin for teachers can be found in Akoraka | Learn.
Google Earth

Google Earth is a tool that can be used to make geographic tasks, field trips and assessments more relevant and get the students working with the technologies they will encounter in the workforce. The following is an example of how Google Earth can be used in a class:
RECN 341
In 2014, RECN341 Recreation & Tourism in Protected Natural Areas, had a group assignment where the students mapped the Spectrum of areas of Recreation Opportunity (ROS) over a 600sqkm part of New Zealand. Previously the students had used paper based topographical maps for the purposes of their mapping alongside the presentation of a written assignment. However, the Examiner (Dr Stephen Espiner) and Teaching Assistant (Caroline Departie) realised that students would benefit from doing the assignment digitally, and that this would be more appropriate to the assignment and more authentic to the way mapping is done today. So they looked to using Google Earth.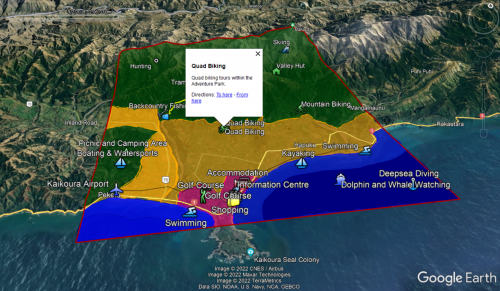 Google Earth, as well as being free and available on all the University computers, also allowed for a greater amount of visual information to be presented in the assignment. This alongside the ability to embed the written component required for the assignment would mean that all aspects of the assignment could be met in Google Earth. Students in a group could share a Google Earth file while they created their assignment and the digital file would then be emailed to the examiner for marking. The skills required to do the assignment in Google Earth were deemed to be relatively easy to pick up with some extra tuition.
A mock assignment was created in Google Earth by the Teaching Team using the RECN341 assignment brief. This mock assignment was then demonstrated to the RECN341 students when they were given their assignment brief. An additional one hour tutorial on how to use Google Earth was provided by the Teaching Team to a full class of students. Alongside this, resources and information on how to use Google Earth for the assignment was put onto the RECN341 Learn site with further links to Google Earth self help tutorials.
The following screenshots show the variety of information presented in student assignments that were submitted:
Virtual fieldtrips
Google Earth is a great bit of free online software that lends itself to many different applications. One of these is to use it to create a virtual field trip. Lots of rich information can be created within a Google Earth file so that students get a complete 'picture' of an area of interest. Features include:
embedded video files (eg interviews of people, fly overs)
embedded pictures (eg seasonal changes, animal species, geological features)
text information (eg instructions for assignments, history of an area, data)
points of interest (eg infrastructure, boundaries, forestry, wetlands, fence lines)
Google Earth also can show historical 'maps' of an area to show the evolving history of the land.
For a field trip a whole map could be created that takes students on a journey through an area instead of physically going there. However, it could also be used to supplement a field trip by providing additional information 'before and after' the event.
For a small example of a field trip made for WATR201 check out the following clip.
YouTube
Peek

Peek creates interactive field trips using active engagement and participation in a fun and interactive learning experience. The Peek app can be downloaded via the Apple Store or Google Play from https://peek.app/ (see bottom of the page on the Peek website). Peek has the potential for students to create a field trip as an assessment task. See what Peek can do for you by exploring how it works on the Peek website. Also see this post about the latest version of the Peek app.

If you would like to see Peek in action, check out the LU Orientation Excursion for 2022 using the Peek app. The Orientation excursion contains a number of images including historical ones (from the LU Living Heritage | Tikaka Tuku Iho website) and even a small video has been embedded.
Starting the Orientation Excursion
When you download and run the app, you will be requested to key in a code: 1865. This will activate the self-guided excursion.
When commencing the excursion
You are now ready to start the Orientation excursion. Hold your phone in landscape mode. You can expand and reduce the screen with your fingers as you wish and when you start walking around, you will see that you are moving relative to the map and the question markers. You should also notice that there is a small blue dot which signifies where you are relative to the area around you. The ring around the dot indicates the quality of the mobile signal … the larger the circle the weaker the signal.
Once you get near a blue drop point, a question prompt will appear. Answer the question/s or simply read the provided information about the location that the app brings you to. Once you have completed the questions and information at a given location, the blue point becomes green which means you have completed that point. There is a bar and counter in the top left which identifies how many questions there are on the excursion and how many you have completed. The more you have done, the longer the green bar. There are also other menu options on the screen as you might see and use in Google Maps (so you can choose Satellite View, Map View, etc).
Student response systems
A Student Response System (SRS) can be used in a classroom to rapidly collect answers to questions from every student. Today SRS systems are more sophisticated than 'clickers' and use smartphone technology and apps to send responses to the lecturer. Using these systems students can respond to questions, provide group answers, vote on topics, and show their understanding. Lecturers can choose to display a summary of the responses and use them to form the basis for a discussion about a particular concept.
Kahoot

Kahoot allows students to interact with information provided in class sessions by responding to questions and voting on topics to show their understanding.

Kahoot!, a favourite learning tool in primary and secondary schools in New Zealand, is also a terrific free tool for university educators looking to add to their teaching toolkit to make learning awesome!

Watch this YouTube clip to see how to set up and use Kahoot.
Slido

Slido is a free tool that allows students to interact with information provided in class sessions by responding to live polls, Q&A, quizzes and word clouds to show their understanding.

Watch this YouTube clip to see how to use Slido.
Socrative

One type of cloud-based software is Socrative which is best described on their website:
Socrative lets teachers engage and assess their students with educational activities on tablets, laptops and smartphones. Through the use of real time questioning, instant result aggregation and visualization, teachers can gauge the whole class' current level of understanding. Socrative saves teachers time so the class can further collaborate, discuss, extend and grow as a community of learners.
Watch this YouTube clip to see how to set up and use Socrative.
Padlet

Padlet is an online web-board that can be created quickly for anyone with internet access and the specific URL to post to. The web-board can be customised to show pictures and is managed by the web-board creator (often the lecturer who can delete unwanted posts etc). In a classroom setting, Padlet provides real-time online interaction as students post responses into the 'padlet' using an internet enabled device.
Please note: Unfortunately, Padlet is no longer free to use and requires a subscription… however, it is still a great tool so maybe it's still worth paying a little for its use.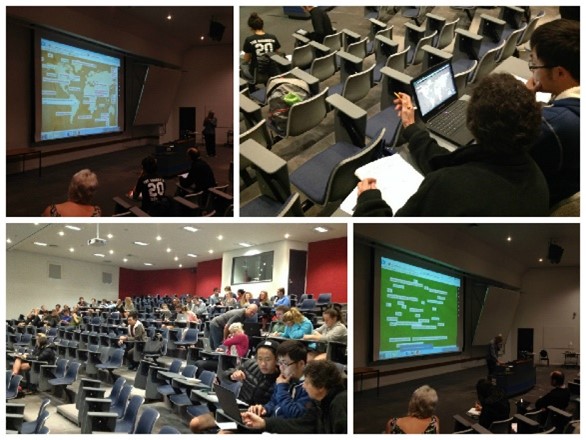 In Semester 1 2015, Padlet was trialled with 150 students for LINC101. The lecturer created two 'padlets' that linked from the LINC101 Akoraka | Learn course page. These 'padlets' were designed to coincide with discussion questions that were posed to students in the lecture. Students were asked to open the Padlets and discuss their responses in small groups and then post them onto the padlet site.
The lecturer then displayed the posted responses and used them to elaborate on topics the students had contributed, as well as ascertain the degree of understanding that the students had about the topic.
The use of Padlet in LINC 101 proved that students can all have a say on topics presented in lectures when the lecture is designed for such an approach. The students easily (and enthusiastically) engaged with the padlet sites and used the opportunity to present their points of view. This did require some small degree of moderation on the part of the lecturer (there is always someone who posts something 'off topic') however the ease to which inappropriate posts could be deleted before they become public, quickly showed students what was required.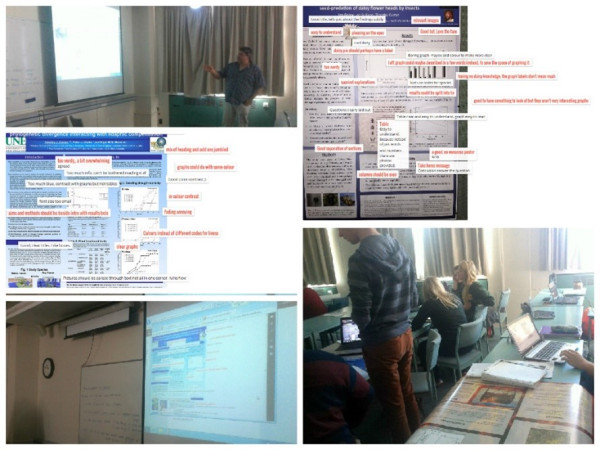 ClassFlow

ClassFlow is an all-in-one free platform that educators can use to create and deliver interactive, content-rich lessons using a mixture of interactive whiteboard presentation and mobile-based quizzing, polling, and response. ClassFlow integrates with the major interactive whiteboard providers, and content can be delivered to just about any web-enabled student device, facilitating learning in a variety of scenarios: blended, 1-to-1, flipped class, or during more traditional lectures.

After signing up, lecturers can get started building lessons, creating assessments and managing their classes. Lessons are constructed with a series of cards similar to PowerPoint and can be designed to be teacher-directed or individual student work. Learning activities include flash cards, sequencing, matching, crosswords and word searches. Content can be pulled in from a variety of sources including the internet, Google Drive, and Dropbox. There are also community lessons available (free and paid) in the Marketplace that can be used as is, or adapted and personalised. Students experience lessons as an in-class presentation, on their own devices, or as a combination of the two. Because polls and assessments can be embedded into the lessons, they can offer immediate feedback. There are a variety of assessment options such as multiple choice, true/false, short text and creative response. The site also collects and stores this assessment data for lecturers to use.

YouTube