Donated collections
Lincoln University proudly holds donated collections and welcomes donations of items to support the work of students, academic staff and researchers.
Thelma Strongman Leggat Collection (in honour of Thelma Strongman)
Year Established: 2012
About The Fund: The Thelma Strongman Leggat collection is a collection of books donated by the Strongman and Leggat families to celebrate the legacy of Thelma Strongman, a well-respected researcher and historian of heritage gardens in New Zealand. The collection contains items by internationally acclaimed authors that showcase the evolution of garden design in New Zealand and elsewhere in the world.
Thelma Strongman herself authored many works including Gardens of Canterbury: A history (1984) which is featured in this collection.
"The collection will be part of our continuing to enrich the landscape around us; as Thelma Strongman did through her work with the archives at the University of Canterbury, her lecturing and research, and her work on heritage landscapes including the Provincial Council buildings, and the Edmonds Factory Gardens here in Christchurch." (Jacky Bowring, Living Heritage Tikaka Tuku Iho).
See items donated as part of this collection.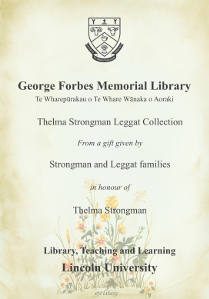 Donate
We welcome donations of relevant, up to date books, textbooks and journals to support the work of students, academic staff and researchers. Lincoln College and Lincoln University publications and archival materials are of particular interest. Titles which are not required will be recycled or returned as appropriate.
Types of donations include:
Memorial gifts - Donations may be given in memory of a friend or relative, or to mark a special occasion.
Financial donations - Gifts of money to be used to develop the collection are especially welcome. Donors may suggest the subject area they would like to support.
Bequests - Donors may decide to support the Library by including it in their estate plans. Bequests can take the form of cash, book collections or other property. Ideally bequests should be discussed with Learning, Teaching and Library at the time of drafting.
Acknowledgement - When requested, donations are acknowledged with bookplates. Significant donations may be highlighted in University publications. Significant collections from donations include the Thelma Strongman Leggat Collection.