Any student requiring special consideration for any assessment needs to apply for an aegrotat.
Special consideration includes needing an extension, to be excused from something they cannot attend, or if they have completed an assessment under impaired conditions.
Please refer students to the home page of Akoraka | Learn, on the right-hand side under Exams and Assessments there is a link to apply for an aegrotat. The Examinations Office – Amanda Emery and Catriona MacPherson – are always available to assist any student having problems applying, or if they have any questions … but please refer students to Akoraka | Learn in the first instance for information and links to the online application.
An aegrotat application can only be approved with clear supporting documentation. Amanda and Catriona will advise students what is required. If an application is approved, then the examiner will be notified by the Examinations Office via email and the student will also be copied in so that they are aware their application has been successful. The examiner will then need to consider how to manage this for the student. Options include the following (with the commonly selected option for missed assessment highlighted) for: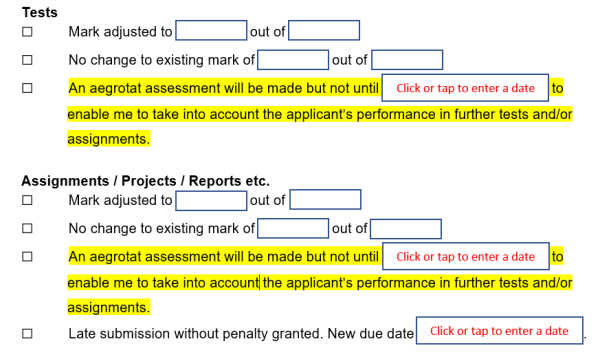 The highlighted option is confirmation for the student that an adjustment to their mark will be considered once further assessments have been completed and avoids the examiner having to commit to a specific result before the course has completed.
For assessments that have approval for late submission without penalty, the examiner can simply advise the new agreed due date. Once an option has been selected, the examiner returns the email, copying in the student, to the Examinations Office.
Having all requests for extensions, explained absences, or impaired performance consideration come through the online application process, enables the Examinations Office to make sure all applicants meet the threshold for aegrotat consideration and to monitor and identify students who are frequently applying for aegrotats and may need referral for alternative support services.